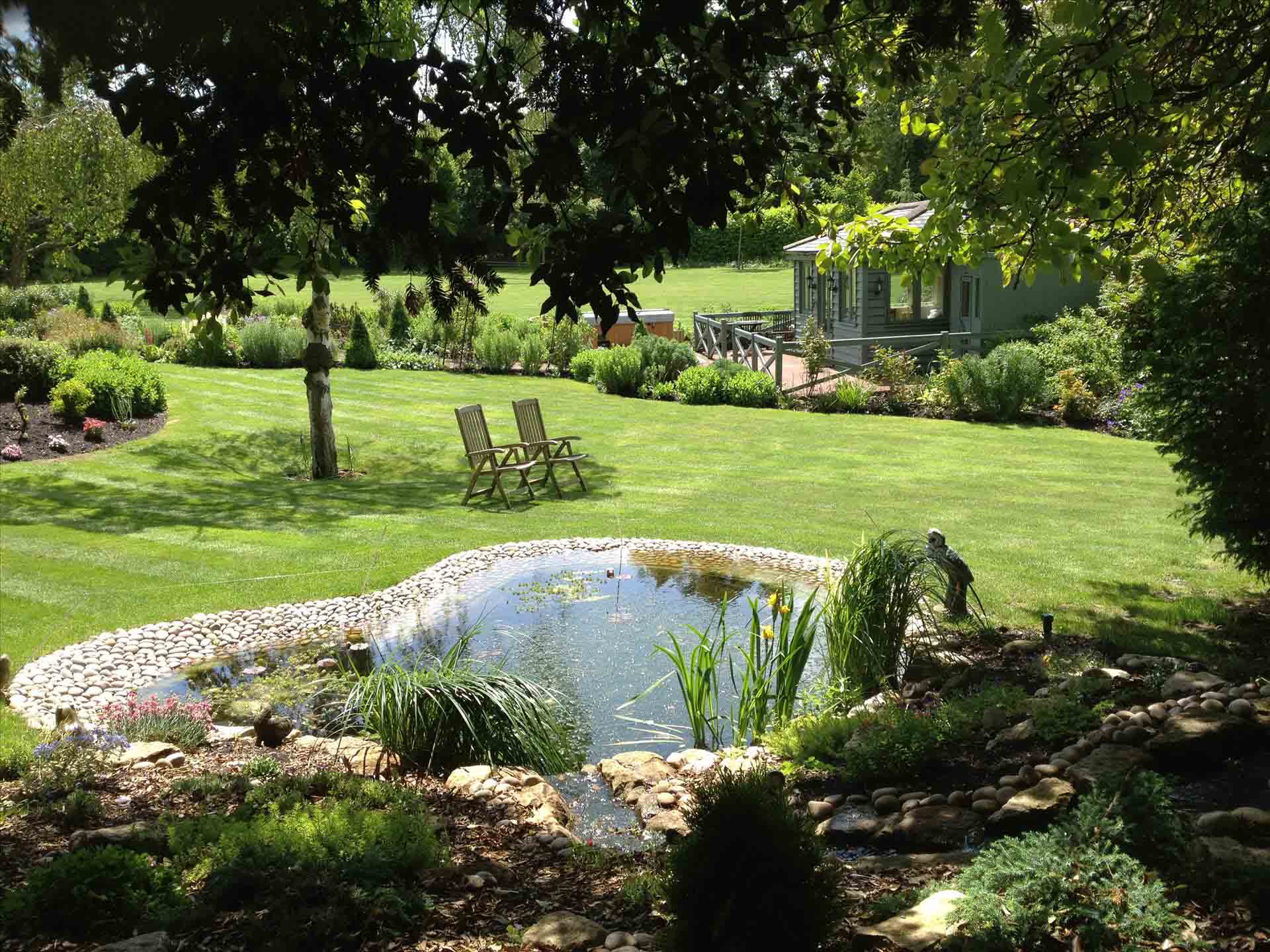 Mixed Fish Pond Construction
Our aquatic industry backgrounds enable us to design, construct and equip very effective mixed fish ponds.​
When we discuss your requirements on site, we'll go carefully through every aspect of the design, construction and equipment with you, to ensure that your pond fully meets your needs and expectations.
And of course, we'll do our best to stretch your budget as far as possible so that you have a pond to be proud of!
View Our Portfolio
Key factors to consider
There are many factors that need to be taken into account when designing the pond and filtration. These include the aspect of the pond site, the position in the garden, the amount of exposure to sunshine and shade, whether it will be ground level or have raised walls and so on. The depth of the pond will depend on the location, the sizes and types of fish to be accommodated.




EPDM Rubber Liners & Fibre-glass

We are trained installersof highquality EPDM rubber liners, laid on a soft sand base coveredwith pond underlay. Some clients prefer their pond to be fibre-glassed on site. Both types of lining are the best available and highly durable when installed correctly.

Filtration Systems
A pump-fed system is normally used for a mixed fish pond. Depending on the filter system in question, the water should pass through the filter once every 2 hours. The objective is to ensure perfect water quality and clarity so that your fish stay healthy and you can enjoy their beauty. Pump-fed systems are highly efficient for mixed fish ponds and cost less to install than gravity-fed systems. We always try to use short pipe lengths with a large bore and few bends, to reduce water friction so that the pump flow rate is as high as possible. The filtered water can be returned directly to the pond or via a waterfall or watercourse.
Aeration & Skimming

Aeration is as important as filtration. The biological stage requires highly oxygenated water to operate effectively and maintain perfect water quality. For ornamental ponds there are many types of low and high pressure air pumps available which will oxygenate the pond water and help maintain the biological filter.
Various types of surface skimmers are also available. These units will keep the surface of your pond free from floating debris.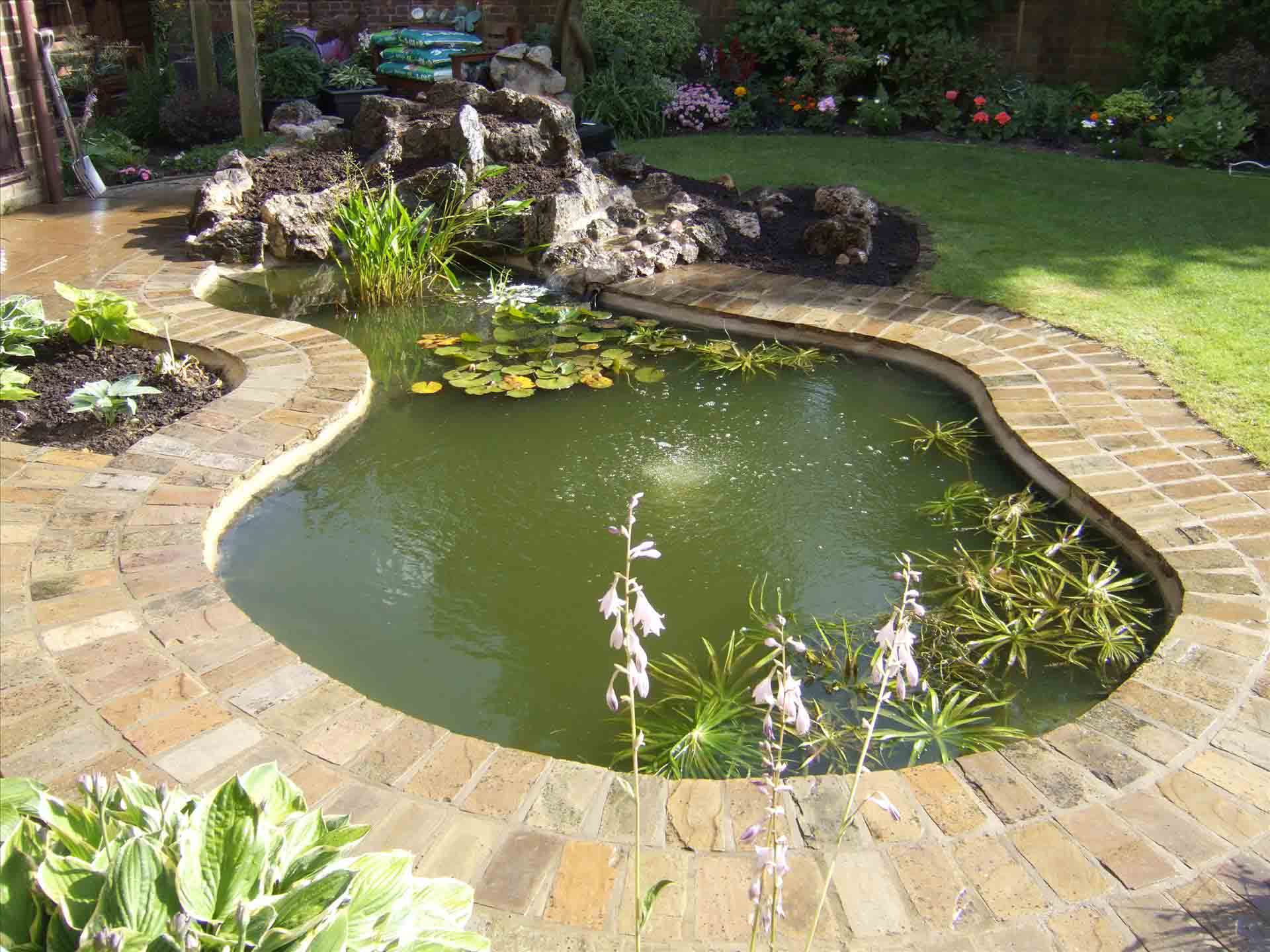 Edging
Many types of material can be used to edge your Ornamental pond. Customers tend to favour paving (natural or man-made flagstones), rock boulders, cobble beaches, gravel and grass edgings, but we can supply and lay any preferred type. When laying a rock edge or cobbled beach, we always create a natural water line so when the pond is full the lining material is not seen. The material chosen must also be inert so that no minerals will leach out into the pond water, if in contact. This includes the bedding mortar.
With flagstone edging, the slabs are laid to overhang the pond water by approximately 50mm so the water sits underneath when the pond is full.
View Our Portfolio
Planting
We have extensive knowledge of aquatic plants and will recommend suitable plants for spring, early and late summer flowering. We can supply, deliver and position them in the pond for you. When constructing a pond that is to be planted, we will install shelves at appropriate depths for marginal and deep water aquatics. Pre-formed fibre-glass ponds have planting shelves built-in to their form, varying from model to model.
Heron Protection
Predatory herons can be a serious hazard for koi. Because they land beside the pond to take the fish, we often protect ponds with carefully positioned 600mm high, 8mm diameter aluminium pre-drilled poles, strung with high breaking strain monofilament line to create an unobtrusive barrier. This is a very effective defence measure. Electrified kits are also available.